So we are 5 days in to our trip and I thought I would share a bit about what I made and how it held up.
One of the things that is important to us is eating healthy and saving money for experiences rather than on food that doesn't make you feel good. Don't get me wrong, we have our treats and even some snacks where you can't pronouce the ingredients, however when you are heading out on a pretty lengthy road trip, or even trying to create make ahead lunches for your family, junk food doesn't need a starring role.
Preparation is key, as to anything in life and this is no different. I must disclose that I (Danielle) am a vegetarian and Greg is more of a carnivore so I had to prep for both. I went to the grocery 1 week before we left for our trip and two days later committed 3 hours to making our meals. Keep in mind, if you are heading out on a road trip vs packaging make ahead lunches look at what you have in your fridge and use it! The key is to not waste. The loose grocery list I used is at the end of the post for a reference.
So – let's start with the Peanut Butter and Jelly sandwich. I used almond butter and local blueberry jelly. After assembling I wrapped them in freezer paper individually and then vacuum sealed them before freezing and they have held up great so far. I have 2 more I am going to eat tomorrow. I think I went to light on both the PB & the J but they weren't soggy, which was amazing. PRO TIP: I got the great tip of putting peanut butter on both sides of the bread in a thin layer so the jelly doesn't seep through when you freeze it! Thank you Must Have Mom!  
On to the wraps – I cut all the veggies and tossed them in a bowl with olive oil and Mediterranean seasonings then on to the grill they went. I did roast a poblano and a red pepper too because I had them in the garden, they were a great addition! While the veggies were grilling I was cooking the chicken in the house (I cheated and bough cut up chicken and seasoned it with some garlic, salt and pepper. I also cooked my bacon and then when that was done mashed up the black beans with some chipotle seasoning for the veggie wraps.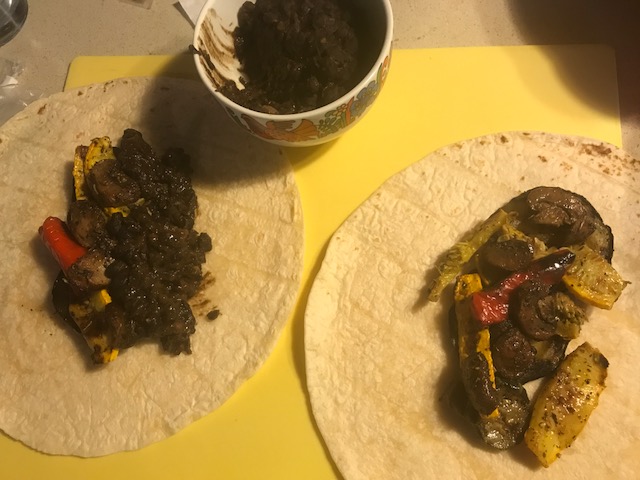 Want to talk about what didn't work?? Using just the plastic wrap without the food saver is not recommended especially in a cooler where things can get wet… and SOGGY. Another item to note, Figs do not freeze! They were in season and so I was excited to pack them on our trip – well, I put them in this sweet little pre-pack snack pack that contained:
So the snack pack is a winner if you exclude the figs and eggs, separate the trail mix in a separate bag – I didn't get a picture of exploded eggs and most figs on the trail mix and cheese, I was too busy tossing it in the closest garbage. But the ones that i separated did great and this was super convenient for that in between meal; you know that one when you are getting ready to grab a bag of chips at the gas station. PRO TIP: This paired great with the Town House crackers snack packs – these are small individual bags of crackers, one bag was perfect to share.
Here is me working in the car enjoying my carrot, celery and pepper snack with one of the pre-pack single serve hummus. I did not freeze the raw veggies and so making them almost 2 weeks before eating them was one day too many for the peppers but I am a risk taker, I would recommend doing the fresh veg as close to your trip as possible.  I hope this helps you navigate the pre-pack and make ahead meals for your next road trip or even your husband and kids back to school lunches. I feel like you could do some of this a month at a time!