Today we were in for just about 500 miles So the trip from Black Hills SD took us thru Wyoming [from there we will be heading to Glacier and Idaho in a few days if the fires don't keep us away]. We made the stop at Devils Tower – which if the weather is good is a must see.  It's this giant unique "stand alone" mountain that juts upward over 5,112′ elevation and seems to appear out of nowhere and it's pretty cool looking.  Fun fact: it's is the 1st National Monument in the US and if you a climber, you can climb it – 2 cowboys were the first to reach the top out of a ladder system they created! To get there, we took the Northern route which is 10 minutes longer but it is a "less traveled" road and it was beautiful.  Long sweeping bends and turns in wide open country with little traffic and deer and prong horns everywhere.  [Its Route 34W] Worth the extra miles.
I did manage to convince Dani to let me stop in Sheridan, WY to have a beer at Black Tooth Brewery and the one beer I had was fantastic – wish I could have had more but the drive ahead was too long. Here is a shot of our pal Cash the Leonberger with one of the great staff members at Black Tooth Brewery!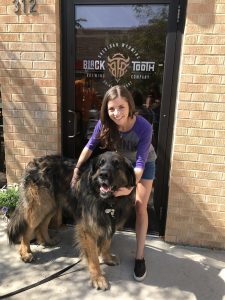 We took Route 90W which runs along the east side of BigHorn National Forest and I cant wait to get back and see more of it. It was truly onward and upward to Billings MT and over to Roberts, MT [pop. 364] to squeeze in a few hours of fishing – only caught one small "brownie".  But if you ever want to walk to you back yard and fish Rock Creek MT I recommend this AirBnB – there are deer everywhere and who doesn't want to walk to the their fishing hole.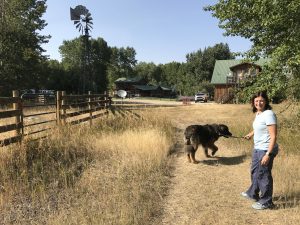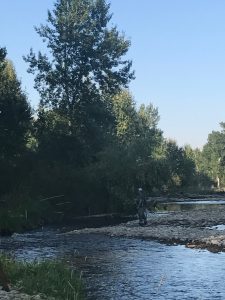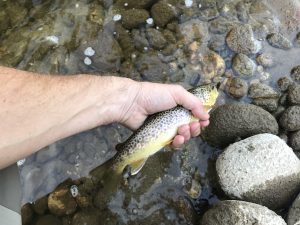 Make sure you don't try to go too far on 1/4 of gas cause the gas stations are far and few between and its not worth the risk.  It's a beautiful ride on Rte 90 – take the time to visit one of the smaller cities where the pace of life is what it should be…