We have the perfect set up for you! With just a quick call, we can help ensure you have a wonderful time in Asheville by experiencing the great outdoors, finding some out of the way spots and we pack almost everything you need! Our Tacoma 4 door truck with attachable ARB awning and tent are available for you to rent! (motorcycle not included…. although we got a guy if you'd like to add that to your experience!)
The tent sleeps 2 adults and a very large dog, very comfortably. We provide you with a double sleeping bag, 2 pillows, 2 camping chairs, a small Webber grill and some grilling tools to get outside and chill. You can bring your pup for a small fee (sorry no cats). If you'd like us to help plan your trip, please just send us a note and we can customize a package that suits your needs. Have a special occasion you are celebrating? We can help! Hospitality, celebrations and surprises are what we love, so just let us know what we can do to help make your trip even more magical. Sometimes, the only thing you need to celebrate is the beauty and majesty of the great mountains of Wester North Carolina! To rent, please do so through our Outdoorsy site. If you have any questions just shoot us an email; if dates are available we can usually accommodate most requests.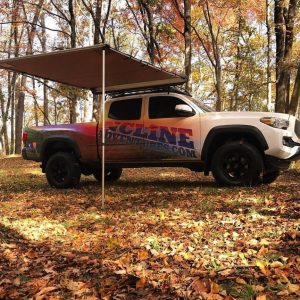 Here is a pic of the truck with just the awning up on the Blue Ridge Parkway this past Fall!